History
I first discovered the delights of del Amitri in the mid eighties when the eponymously titled del Amitri album ignited something within. I loved the intertwining guitars, the stunningly crafted pop songs, the lyrical imaginary and the beautiful vocals.  The album has remained in my top 5 all time albums to this day with songs like "I was here", "Heard through a wall" and "Keepers" being examples of near perfect songs in my book. I saw them play a few times back then in London's Marquee and at a tiny venue in Harlow (Square One) where I first saw The Dentists, another band which I went to see many times in the mid to late eighties. The Dels disappeared of the music map for a few years and I thought they were gone forever. There was no Internet then to find out what a small band was up to. It transpired that they had been dumped by their short-sighted record label, Chrysalis. They re-emerged in 1989 with a complete change of sound, image and record label (A&M). I remember seeing their first London gig at the Borderline club with just a handful of other people. At first I was cautious of the new sound, but was soon brought over to the dark side of MoR Americanised rock/pop. The rest is history.
I carried on seeing them play live for the next few years before parting ways. I've always continued to buy their product and now prefer the Justin Currie solo work (and the first album of course).
The gig (19/9/2013)
The Gate arts centre in Cardiff is a tradition church that's undergone conversion. It's a lovely little venue. About 5 rows of cushioned pews surround three sides of the hall in what was once the balcony. A false floor has been put in at the base of the old balcony. The stage was a little low and when Justin sat to play keyboards you could barely see him, but otherwise I can't fault the place. The support act was Del somebody from Canada. The ex rancher delighted the audience with his cute hick tales, strong vocals and capable guitar work.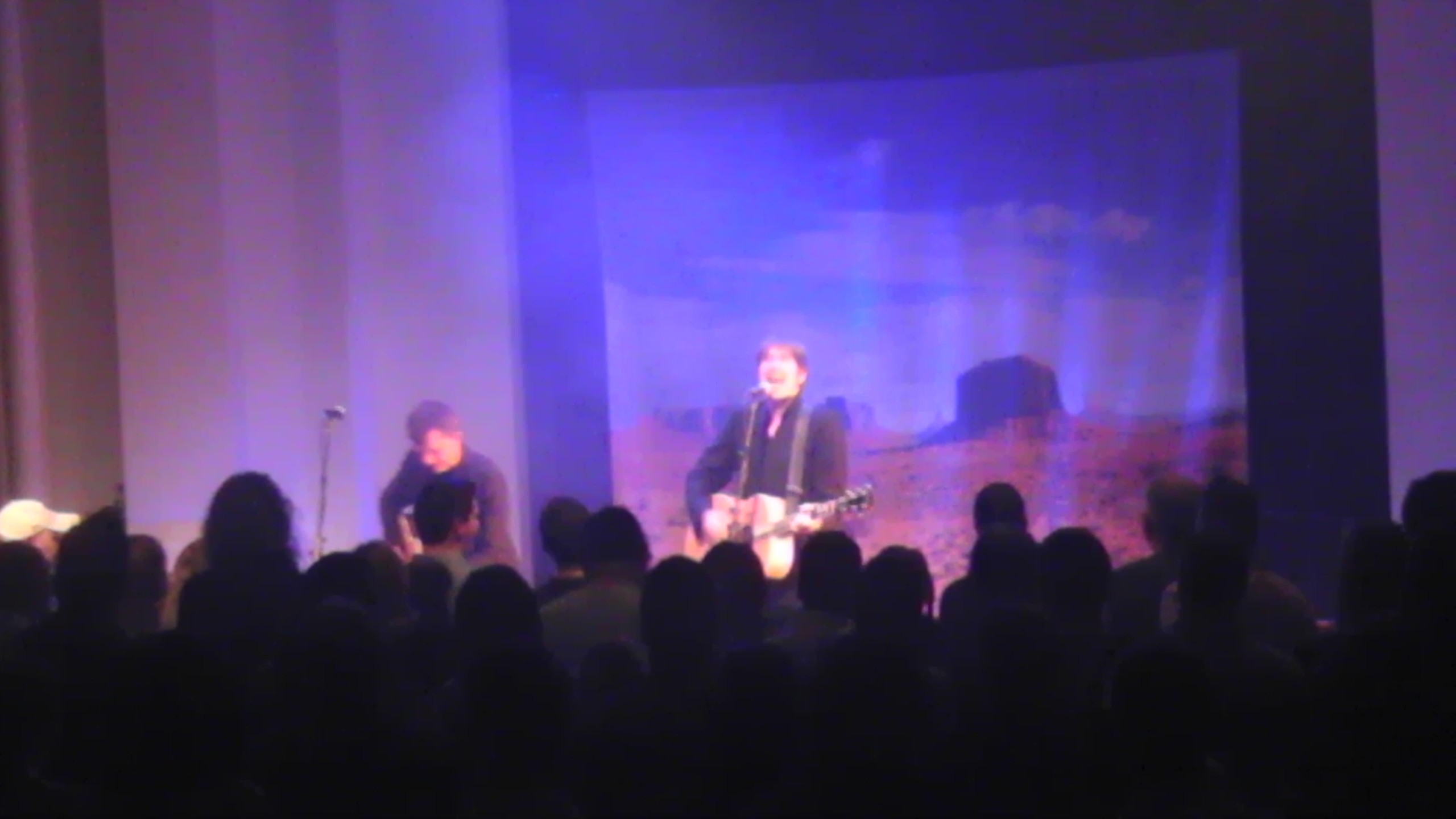 I'm of a similar age to Justin, and as he formed del Amitri in 1983 you should be able to work out my age group. I don't go to many gigs these days (us old fogies don't), but I was shocked at how old the audience was. I was possibly below the average age. My son (15) is a big fan and he was probably the only one there under 30.
Justin appeared to great applause and after explaining that a "real musician" would appear later he went into the catchy "Every song's the same". Half way through he bent down for something and the guitar cut out. Not a great start. After a bit of cable and guitar interrogation, normal service was resumed and the song was completed. The "real musician" did come on later, but was very disappointing. I would rather have heard Justin playing unaccompanied rather than listen to the random sliding of a bottleneck over guitar strings.
I've just learned that del Amitri are reforming for a tour in early 2014. It's a shame that Justin can't leave the old stuff for then. I really wanted to hear songs like Walking through you, Something in that mess, You'll always walk alone or As long as you don't come back. Even older stuff like The Uncle Devil Show's comical She cuts here own fringe or the beautiful yet sad reflection on his musical career of Just getting by from the final del Amitri album, Can you do me good? The current single Bend to my will wasn't even played. The first half of the show was good, but it decayed into a nostalgic sing-a-long, something I would have thought Justin would have hated.
The chap in the row behind me summed up the majority of the audience. "I (retrospectively) bought their first album. It was rubbish." You sir, are a buffoon and shouldn't be allowed into a record shop or gig. The reality is that Justin's solo material along with del Amitri's first album are by far his best contributions. The MOR stuff in between is good, but it's not in the same class.
There was an embarrassing moment in "No Surrender" when Justin clean forgot the lyrics mid song. It's a lengthy rant with a colossal number words in his defence. He thought for a while in silence, then declared his regret that he had lost the thread and just couldn't get back into the prose. In the many hundreds of gigs I've been to I've never seen this happen before. Not one member of the audience could help him with the next line, which says a lot in itself. For my part, my memory isn't as good as it once was!
I came away feeling a little sad that such a talented man was reduced to peddling his "hits" for a bunch of middle aged beardies that just wanted re-live times that they missed out on all those years ago. Go and see the ageing del Amitri if you want to hear del Amitri songs (btw £50 a ticket is a ridiculous price). Having done that many times in the 80's and 90's I wanted to hear some great new material (as we did back then) rather than listen to the old punters wail along to "Nothing Ever Happens".
Every song's the same
Food for songs
Priscilla
Into a pearl*
The way that it falls*
Whiskey remorse
The last to know
Half of me*
If I ever loved you
Falsetto*
I hate myself for loving you
Driving with the brakes on
This side of the morning
Tell her this
Jimmy blue
Stars*
Sleep instead of tear drops*
Still in love*
No surrender* (cut short)
Nothing ever happens
Be my downfall
All songs played by Justin on guitar except *piano