Until a few years ago if you wanted a GPSr you had little choice but to go to Garmin. Competition was very weak and Garmin products were good, but things have changed. While the historic competitors have failed to up their game the smartphone market rode into town, bringing with it larger high resolution displays, slim easy to use devices that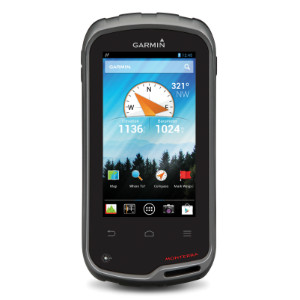 offered so much more. Now you can have one device that sees the geocaching process through from end to end, from pulling data via 3G or wi-fi, to on-line access to geocaching.com while out in the field, to finally logging your find on-line along with posting photos taken on your smartphone. And when you're out walking or caching who doesn't take a phone with then anyway? The biggest benefit is that many of us already have these devices, so there is no additional cost associated with them.
So why do people still buy dedicated handheld units? It's simple. There are a few critical issues with smartphones:
GPS antenna / chipset does not provide as good and accurate positioning
Non-rugged hardware means the units can damage easily
Non-waterproof hardware
Battery life is poor
Garmin are about to release the Android based Monterra to bridge this gap, but what does it really bring to the party. The items on my list are simple hardware issues. Phone manufactures won't address these issues because they add cost, are not mainstream requirements and may make their devices considerably larger and therefore less desirable. GPSr users are used to carrying around large clunky devices, so getting around power issues (and Android really does guzzle power) is easily solved by adding a large housing that takes three AA batteries or a rechargeable lithium-ion battery. Garmin claim 22hrs on the rechargeable battery, but we all know to take these specifications with a pinch of salt. Sadly, what Garmin have done is to remove many of the benefits of an Android phone. There is no phone, no data (3G/4G). So we now need to carry a separate phone and we can't interact with the data that is so central to geocaching whilst outdoors. Wi-fi is still available, but that's not much use if like me you are generally out on the hills. While the device can record 1080p video (I don't know how good it is though) it can only display a paltry 272 x 480 pixels. That means the HTC One has 16 times more detail on the screen. I believe this is part of the power saving exercise.
The Google Play Store is available on the device, and this could be Garmin's downfall IMHO. Sure, if it wasn't available some users would soon find a way around that, but by opening up the Play Store you can put any Android app on you want. This also means that the Garmin software becomes pretty much redundant (there are always people prepared to write this stuff for free and it's usually better that the bundled software) and more importantly they will no longer get revenue from selling maps. It's good news for the user. Personally I hate that if I buy a Garmin device I am tied down to some pretty poor maps and at a large cost. Now you can just install your favourite Android mapping application and associated off-line maps. If you don't have a better Android (or other smartphone) device you could also install an offline sat nav app, though these are not free of course. WhereYouGo (the Android replacement for Wherigo), Munzee and a host of other GPS related apps could also be installed.
All it takes is for an electronics giant to see a profit and they will make an rugged Android phone with a good antenna/chipset and a large battery option and it's bye-bye Garmin. No expensive software development or support is required. While they're at it they will add in the phone and data connectivity and Garmin's effort will be kicked into touch. The arguement for no phone appears to be battery conservation, but turning the phone (and data) on/off  on Android couldn't be any easier. The final nail in the coffin is the cost. The Monterra is retailing for a whopping £600 (minus 1p). This comes with the totally useless base map and the only slightly more useful recreational map of Europe. There are also no details on Android version, processor, RAM, how speakers deal with being IPX-7 waterproof etc.
Of course dedicated GPS receivers also come with 3-axis compasses, barometric altimeters and the Monterra even has a UV meter (though it didn't work in the review I saw), but these are much less important. Personally I've never seen much difference in practical terms between the 2-axis and 3-axis compass and all barometric altimeters on these devices are pretty much useless (and they drink batteries).
The release date has been put back several times now, but I'm sure that Garmin will make sure it's out in time for Christmas regardless of whether it works or not. Garmin have a poor record in recent years when it comes to releasing new products as they have been full of bugs, but unlike Magellan they do at least address the issues and try to fix them. Santa can relax though, because I won't be asking for a Monterra this Christmas.