A GPS data logger is a device which purely logs where you've been and when. Most have no display other than a few LEDs and use very little power. The battery is usually fixed within the unit and often charged via a USB connector, so one connector is used for data transfer and charging. This way no separate charger is required either. The device is not designed for navigation purposes, but some can be used in this way if connected to a suitable device (phone, tablet etc) usually via USB or Bluetooth.
Why I chose the GT-730FL-S
I looked at several devices, most coming from the far east. The idea of returns and import duty was a concern and the lack of reviews available on the Internet didn't convince me that the items wouldn't need returning. Canmore is a Taiwan based company, but their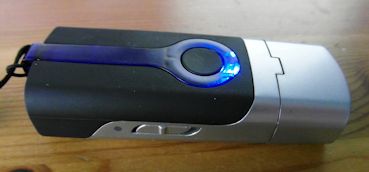 products are sold in Canada and Europe. I did find a UK seller, but their older model used the Venus 6 chipset, whereas I wanted the SiRF star IV model. I don't understand why they have the same model number. You may think the -S stands for SiRF, but it actually stands for silver (the device colour).  CanadaGPS have a useful chipset comparison here. The only real contender for me was the Canmore GT-740FL-s, which is very similar, but has a G-sensor to detect when the device is stationary so it can send the GPSr into standby mode. It is also IPX-6 waterproof, but this seemed pointless on an item that would sit in a dry pocket or rucksack. I wanted to keep my costs down, so the choice was made. It cost me £40 including £5 postage from Germany in January 2014.
The package arrived from Digital-paradies (lol) in 6 days. In the box there was also a Canmore lanyard and mini CD with drivers, software and very minimal instructions, though to be honest it's pretty straight forward. The unit was charged in 30 mins and made it's first fix on a window ledge in about 2 mins.
Here are the key features of the product:
48 channels
SIRF-IV chipset has very low power consumption (claims 17/56 hours per charge)
2.5m CEP accuracy
Supports SAGPS function giving very fast satellite fix
SBAS (WAAS, EGNOS) support
Configurable logging data interval by time or distance
There's a small slider switch on the side to turn the device on and off. The switch is reasonably firm so should not be too easily moved in your pocket. There's a large circular button to mark your current location with a waypoint.
The LEDs surround the button lighting blue when powered on, changing to a slowly flashing blue light when the device is talking to the satellites. A few fast flashes confirm a waypoint has been marked. There are smaller LEDs to indicate charging (yellow) and low battery (red), though I've not seen the latter on yet. The unit (including cap) is 70mm in length.
 Battery test
After a few uses I charged the battery fully then switched the device on and left it on a window ledge until it ran out of battery life.
| | | | |
| --- | --- | --- | --- |
| Logging Interval (secs) | Duration (hrs) | Memory used | Re-charge (hrs) |
| 1 | 17.0 | 24% | 1.3 |
| 5 | 15.9 | 5% | 1 |
| 30 | 54.9 | 3% | 1.5 |
The 5 second interval test was the first one I did and the battery life improved noticeably after this, even when logging more frequently. Re-chargeable batteries often perform better after a couple of full discharges/re-charges.
Performance test
I took out the four devices I currently own for a performance review.
Canmore

GT-730FL-S

SiRF star IV

Garmin

GPSMAP 60CSx Original had

SiRF star III

, but I'm not sure about this 2010 model

HTC

EVO 3D Android smartphone

Qualcomm

Magellan

eXplorist 710

SiRF star III
I tested the units on a 3 mile walk on a very cloudy day. The terrain was hilly. The east side of the route is enclosed in a steep, thick part coniferous/part broadleaved forest in winter. Nearly all of the route is on small roads so I could see the roads on the map. All units were placed in my pockets. I started at the most easterly point.

The above overview shows all units performed well, though the HTC was understandably less accurate than the others. The Canmore was less accurate at the start of the anti-clockwise journey, but it had been switched on just before I started the route (the others had been on for a few minutes) so it may have fixed on fewer satellites than it later achieved. After this section it was very accurate.
 Here you can see the Canmore performed perfectly, as did the Magellan which is hidden underneath it. The Garmin was good too and the HTC was some way behind. I have since used the device on a number of outings and it has performed without issue. Time taken for first fix is generally 1 minute or under. It has been as little as 10 seconds.
Extracting data and Canway software
I imagine that data is stored in a raw format, which is economical on processing and storage, but means you can only extract your data via the supplied Canway software. Canway is supplied for PC and NOT for Mac as some sources suggest. Plug the device in, switch it on (it does not appear as a USB device) and click download trip in Canway. Tracks held on the device can be easily selected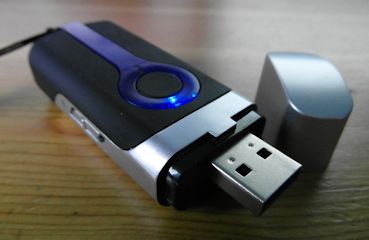 via tick boxes. The download is very quick. Even the 16 hour (5 second interval) log I created took just a second or two, but the log containing 24% of the device's memory took about 30 seconds to download. This is a huge amount of data though to be fair. Once you have the data in Canway you can view it on a map (Google, Bing etc), view elevation/speed metrics, geotag photos and a host of other things. All I am really interested in is exporting the data, as then I can choose which software I want to analyse the track and waypoints. You can export in CSV, NMEA Text, KML, KMZ and the all important GPX. If you need other formats you should easily be able to create them from one of these formats with a tool like GpsBabel.
GPX is the format I will be using mostly, so I have tested this well and csv to a lesser extent and both worked as expected. I did have a problem importing the track with a marked waypoint into Garmin Mapsource. I edited the waypoint out of the file with notepad and it was fine. I will look into this further.
Elevation data is added to the exports, presumably from map data within Canway, as the specification doesn't indicate there is a barometric altimeter of that the data is generated from GPS satellites.
You can download the four tracks used in this test from here if you wish to see them in more detail.
Using the data logger as a USB dongle
I plugged the GT-730FL-S into my Windows 8 PC and ran up Memory Map. I selected NMEA on COM4: with Baud rate 38400 (8 data bits, 1 stop bit and no parity) and it worked immediately. I've had less success on my Android tablet which has a powered OTG port, but I'll update when I've had a chance to investigate this further.
Geo-tagging
Many recent compact digital cameras contain a GPS receiver and will geo-tag your photos, but there is a down-side to this approach. The GPS receivers that camera manufacturers use are often inaccurate, take a long time to get a fix when you just want to take a photo and run the camera battery down very quickly. I've seen loads of comments where people say they turn the GPSr off because it gobbles the battery. A data logger is the perfect solution to this problem. Just put it in your pocket (switched on) at the start of the day and when you download your photos to your PC use an application to extract the location from your track log that corresponds with the time on the photo. It's really easy. Canway will do this, but I prefer to use GeoSetter, which is also free. Apart from all of the above advantages (accuracy, speed of readiness, battery preservation) you can also concentrate on buying the camera you really want, when you upgrade you've still got your data logged to use on the new camera and you'll save fair a few quid too.
Conclusion
The Canmore GT-730FL-S is  a really handy device for those purely wanting to log where they've been or wanting to geo-tag photos. It's small, accurate and records a lot of data, while the battery charges very quickly and lasts much longer than my other GPS receivers. Marking waypoints couldn't be easier, though I usually prefer to take a photo to mark a point, so I can easily remember why I've marked that point.
I record every walk I do, but often don't want to carry a fully fledged GPSr when I'm in familiar territory. The data logger is also much quicker at getting a satellite fix, so I can just pick it up and go. I also can't resist toys.
Comments after six months of use (8/8/2014)
I trim up my exported GPX files in Garmin's MapSource, but it won't open the file if there are any waypoints in it. I've not got round to looking at what's wrong with the format, but I just open the gpx file in notepad, go to the end of the file (waypoints are always at the end) and delete everything between <wpt> and </wpt> and save the file. Sorted. My own mapRoute web app reads the waypoints fine btw.
The waypoint button sometimes gets fired unintentionally whilst in my pocket.
The black rubberized surface is excellent, but the silver is rubbish and gets scuffed and scratched very easily.
I had some issues geotagging photos correctly once we moved to BST, but I've also changed my camera, so it may be the camera that's the cause. I can easily get round it by time-shifting anyway.
On the odd occasion it takes the device a good 30 minutes to pick up a fix but usually it's ready in a few minutes.
On a single occasion the track log went a bit crazy diverting a mile (over a river) to somewhere I had not gone.
Everything else is great and I'm very happy with the device.
Update March 2016.
After a period of using my GT-740FL I came back to the GT-730FL-S only to find it has died. The blue light illuminates (battery OK), but never flashes (doesn't get a fix).