My Berghaus Axis hard shell was bought in October 2007 and it had lasted me well. I'd worn it for thousands of miles and it still looked like new. The problem was that it was wetting-out (material absorbing rain rather than repelling it) and I'd tried several times to re-proof it with Nikwax, but the expensive products made no difference, so it was time to stop wasting money and buy a new shell.
There are many waterproof materials on the market, the best known brand is Gore-tex and the other most favoured is eVent. While both are very waterproof eVent has the reputation of being more breathable, but the downside is that eVent requires a lot more maintenance. I use my jacket all the time and I really am not interested in washing it every couple of weeks. Also Gore-tex is arguably more rugged, but that depends on the Gore-tex product you buy. Gore-tex comes in
Paclite (very light like a kagool)
Active (the most breathable, but not so tough)
Pro Shell (very durable and very waterproof).
Pro (brand new product to replace Pro Shell)
Pro Shell has recently been replaced by Pro, which is just as durable, but also claims to be 28% more breathable. I was very keen to get a Gore-tex Pro jacket, so after failing to find a Haglofs Atlas Long I decided on TNF Point Five NG from their well reputed Summit Series. While the 2013/14 model used Gore-tex Pro the version from the previous year is made from Pro Shell.
The jacket retails for £270, but can be found for as little as £215, though finding it in a desirable colour for this price can be more difficult. I bought from here.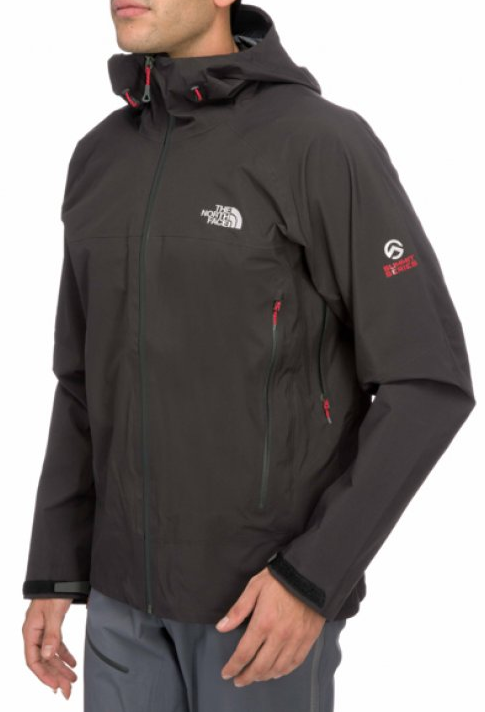 My comments
Firstly, the jacket looks great. I went for TNF black (matt black, a touch of grey rather than jet black). The TNF logo is OK on the front, but I really dislike having it on the back of the jacket too. A current trend that will hopefully disappear. My old Axis had a beautifully stitched logo and stitched "Goretex Pro Shell" on the cuffs and consequently looks like new after all these years. This jacket uses transfers, though the subtle "Goretex Pro" in gloss black on the cuffs is nice. There's a "Summit Series" logo on each shoulder too, which is inoffensive.
There are no external wind flaps on the zips (there is an internal one on the main zip). I guess zip technology has improved in recent years as this is the standard now. There are just the two very large hand warming pockets which are designed to avoid rucksack straps. The waist drawstring pulls appear inside the pockets. This seems like a gimmick to me, as I've never had a problem with standard drawstrings and I don't really want to feel them inside the pockets. Personally I really miss not having an internal secure pocket for keys as I don't always carry a rucksack and not all of my trousers have this feature. There's no map pocket, though I don't miss this personally. Cuff adjustment is via familiar hook and fastener material, though externally a modern rubbery textured material is used. All zip fasteners and drawstrings are in an eye-catching bright red.
Pit zips are becoming more common on higher end walking jackets.These huge zips under the armpits allow cooling and reduce sweat and are a great idea. Even in light rain I have found you can leave them open and the rain doesn't come in. You can obviously adjust the size of the apertures, though adjusting while you are wearing the jacket is not always  easy.
The hood has a stiff peak, though there is no wire like my old Berghaus, which could be moulded into the required shape. It is helmet compatible and has a really good drawstring adjustment. The end result is that it fits really well to just about anyone and the visibility is excellent. The downside is that it does not fold away, so it's always flopping about. I loved the way my Axis hood easily folded into a padded collar. The main zip comes over the chin as you would expect. There's some soft lining material to stop it rubbing the chin but it doesn't do it's job. This is because the material curls and the liner doesn't make contact with the chin. Poor design, but no different from the Axis.
Overall the jacket is very light for a hard shell and water resistance has performed as I had hoped. The big plus is the breath-ability so far resulting in a cooler experience than with previous jackets. The DWR (water beading) is of course brilliant when new, but this quickly reduces. The jacket is comfortable and long enough for me (I have a very long body, so the Berghaus let me down in this respect) without being too long. One of the great things about Goretex Pro is that you don't have to be too precious with it. Catching it on a branch or scuffing on a rock leave no lasting signs in my experience. The proof of the jacket is, of course, how well it performs over time. I've had the jacket for three months now, so only about 20 outings. I'm very pleased with it so far. Hopefully it will not be used for a few months now with summer arriving at last!