I've finally realized that I need to lose some weight and get fitter. It's not the end of the world, but I will need some self control and determination. The principles of losing weight are simple; consumer fewer calories than you burn and take exercise (to burn more calories).
My wife showed me the myfitnesspal calorie counter, an Android app which makes counting calories very easy. You are firstly given a target number of calories you can consume each day which is dependent on your height, age, gender, job type and goals. The app is basically a calender/spreadsheet for meals allowing quick look-up of pretty much any food item you can imagine. You can also scan package bar codes too. The app could be improved, but it's a huge help.
I was shocked to find how calorific many of my regular foods were:
Bread. I lived on the stuff. It's terrible but I have to have it. About 150kcal per slice. I eat homemade bread, so a sliced loaf is probably lower in calories purely because slices are smaller.
Pizza (the homemade variety again). My son's favourite. With half the flour of a loaf it's not surprising it's bad, but 800kcal per person before you put on the toppings is serious stuff. I won't miss it too much and I can easily make a smaller one for my son.
Rice and pasta. I love my carbs. Basmati rice isn't quite as bad as long grain, so I'll be making a huge batch of vegetable curry soon.
Cheese. This is another one that I ate far too much of, but not too hard to cut down on. Two slices of cheese on toast use half my daily calorie allowance!
Chinese and Indian takeaway (always accompanied by a lager or two). Don't even think about it unless you've been highly active all day. It's very difficult to know the true number of calories too.
On the other side of the coin potatoes and wine weren't quite as bad as I thought they would be, though I have cut my wine intake considerably. I got into Green Smoothies earlier this year, so that's a great breakfast and fulfills most of my 5-a-day (I know it needs to be at least 7-a-day) before I start work. Pineapple, strawberries, tuna are great. I tried Quorn for the first time in my life. The mince replacement was edible, but the chicken cube one was horrible. The texture is more like mushroom than chicken, which is not surprising given that it is an edible fungus.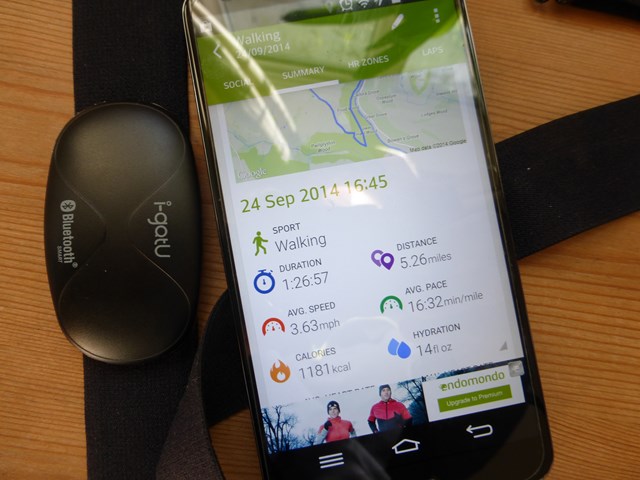 I also decided to increase my midweek walking dramatically. I live in a hilly area so it's ideal. I mainly work from home, so I'm making time for a lunch break every day if possible. My main route is 3 miles and heads up about 650′. That's 1.3 miles of good climb and really gets the heart pumping before a short flat section and then back down again. I have an elongated 5.25 mile version of the walk that I like to do in the early evening if work gets in the way of my lunchtime blast. I try to push up the hill as fast as I can.
Dieting alone will work I guess, but exercise should speed things up dramatically. You can also add your burned calories to your daily allowance, so if you're getting low on points you will be strongly motivated to exercise. I only ever dip very lightly into my exercise calories as I want to lose the weight.
I can never get enough of gadgets, so I bought a heart rate monitor (HRM). These strap across your chest (you can't see them under clothing) and talk to your Android (or other OS) phone. Apps such as Endomondo and mapmywalk will connect to the HRM via Bluetooth and your heart rate is monitored which in turn calculates your calories burned. My 3 mile route burns about 700kcal and my 5.5 mile route burns about 1150kcal, so on top of my 1360kcal allowance I could eat/drink very well if I wanted to. The calories burned will drop as I get fitter.
At weekends I always walk around 12-15 miles and usually on pretty tough terrain. Last weekend was my first weekend with the HRM and a 12 mile walk in the Brecon Beacons starting with a 2000′ climb over the first 2 miles (that's about as tough as it gets for me) burned well over 4000kcal. I do have to ask myself how I ever managed to get overweight burning this amount of calories each weekend, but it just goes to show how much over-eating I was clearly doing.
I'm about 3.5 weeks into the regime now. A terrible cold shortly after I started didn't help as a bad chest made the walking difficult. I've lost just over a stone and am now almost in the accepted weight band for my height/age. I plan to lose a couple more stone, hopefully by Christmas, but it may take longer. After such a short time I'm already feeling much better about myself. Today I started to jog on the downhill sections. I've never been able to run due to allergic asthma , but this is my long term goal. My dog Bob is loving it too. He's 9 years old now, but when the wife isn't at work he's out most of the day with one or other of us and we all walk together once or twice a week. As Errol Brown once said, "Everyone's a winner baby, that's no lie!"